Mel Skellington holds an amazing contest every October. She hides a pumpkin somewhere on her property filled with cash. Teams are invited to try to find this pumpkin. If you think this sounds easy don't be fooled! There are tricks and traps along the way. Some teams go in, but never make it out... If you are successful, you get to keep the cash. If you take too long, watch out for Halloween ghouls and ghosts! Are you up for the challenge?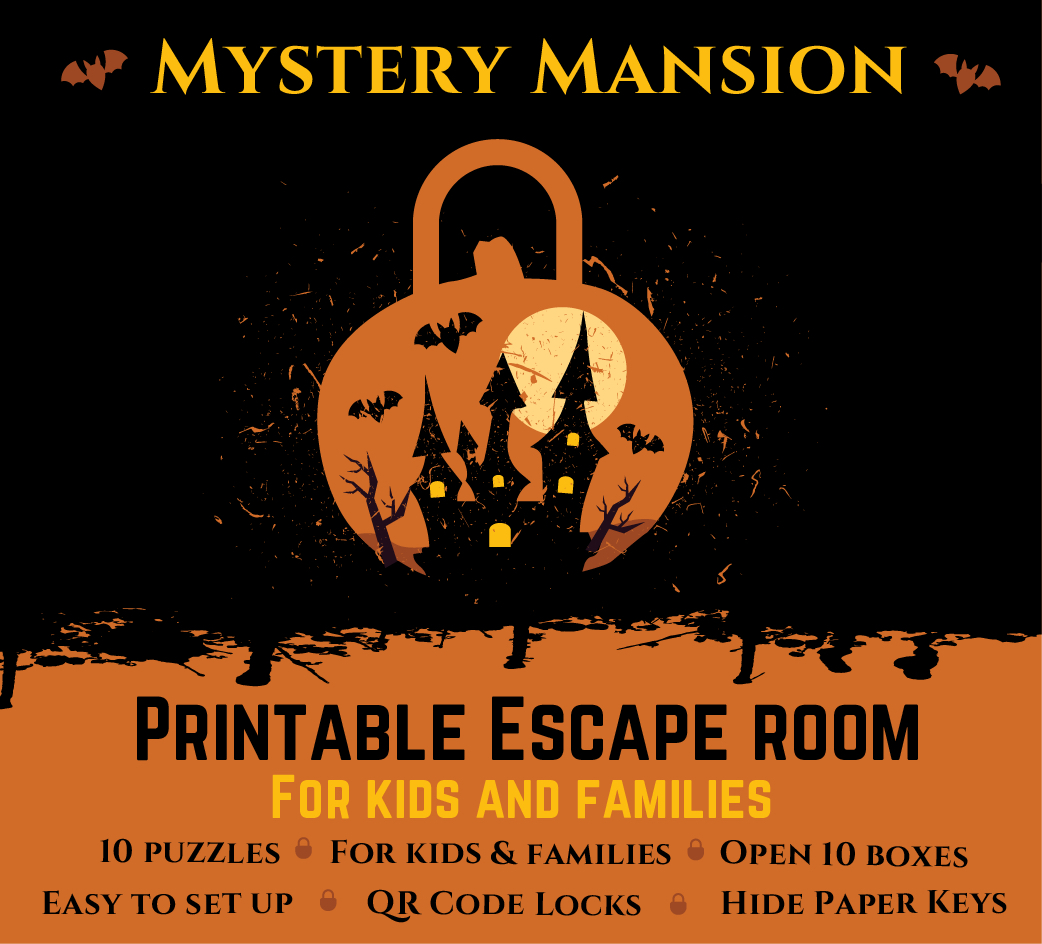 It's Halloween and you're about to go trick or treating at one last house for the night. You climb the steps at the front of the house when all of a sudden the door swings open. A huge gust of wind pushes you inside and the door slams behind you. You turn to leave, but there's one problem… It's locked! You notice there are many doors in this mansion but only one is open… You go in… You see a note… It says: OPEN THE ENVELOPE ON THE TABLE
You and your friends are out trick-or-treating when you come across an extra spooky house. You are brave enough to go to the door but didn't know it is Witch Willa's house. She opens the door and grabs your candy bags and hides them in her safe. She tells you the only way to get your candy back is to fill up HER bag with eight mystery treats from the houses on this street. It's not as easy as it sounds because each treat is locked up and you need to figure out how to get to them. Can you fill Witch Willa's bag with the eight mystery treats and deliver them to her so you can get your candy out of her safe?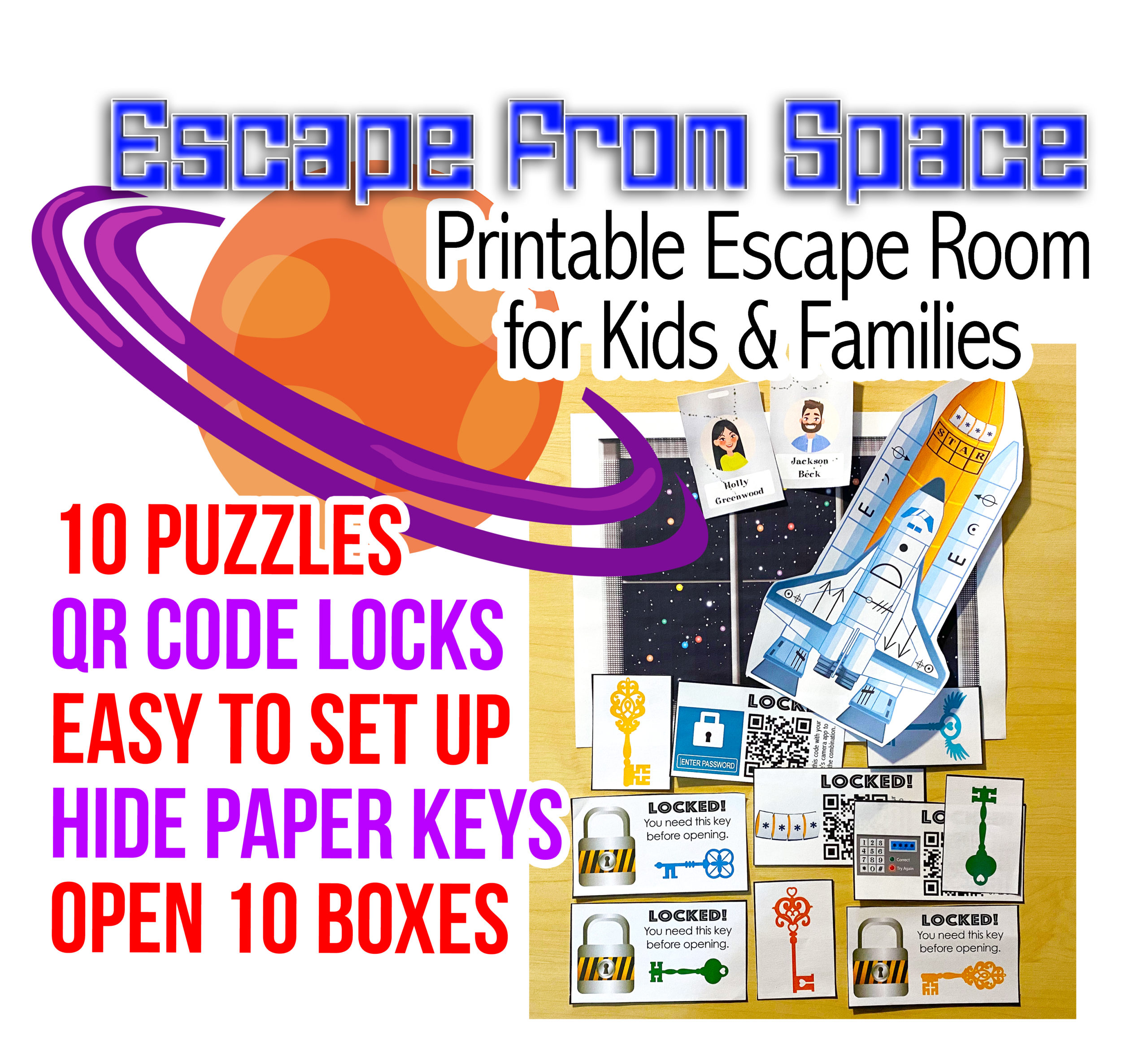 NESA (National Escape Space Association) has been hearing some strange signals from a nearby galaxy. You and your fellow astronauts have been assigned to a space mission to find out if these signals are from aliens and to find out if they are friendly or not. Along the way you need to watch out for meteors, black holes and alien invasions. Hopefully you will be able to handle any problems along the way and return to Earth. Good Luck!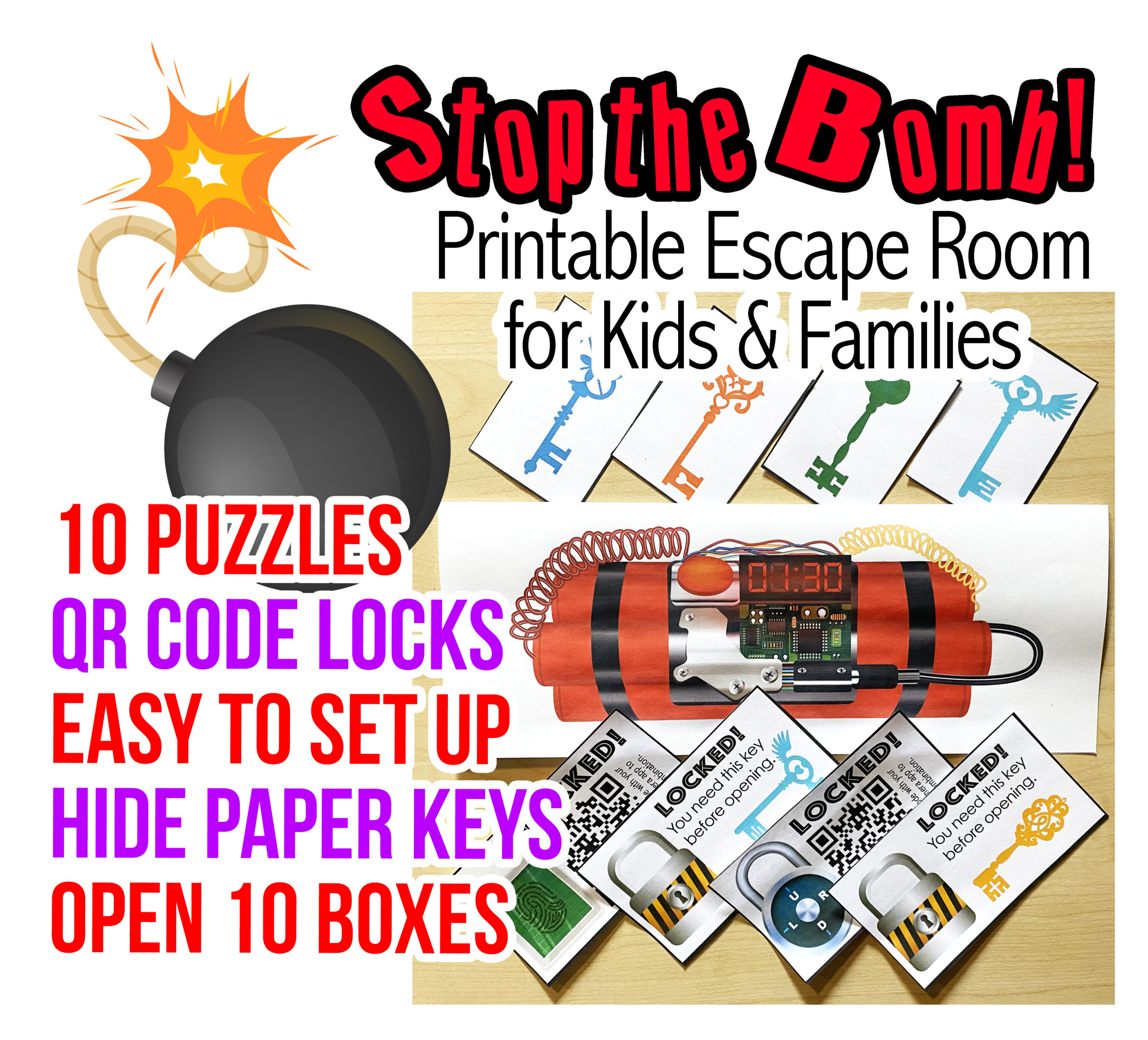 The President just called. There is a bomb about to detonate in 60 min. He needs you & your team of specialists to deactivate the bomb. Not only is the bomb armed, it's also locked behind a bunch of traps. You will need to get past the traps & figure out how to deactivate the bomb before the whole city explodes! We are counting on you. Can you do it?
About Kids Escape Room
Creators, Carolyn & Keri, are cousins who love to make escape rooms for kids.

Each theme has 10 paper locks. There are 5 paper key locks with. puzzles to tell you where to find the hidden keys. There are 5 QR code locks using a variety of number, letter & direction combinations. Use the camera app on your phone to scan the QR code. Click the link to take you to a Google form to enter your code & find out if it's correct.

All the puzzles are related to the theme. Parents have access to puzzle solution sheet so they can give clues along the way if the kids need help.
Find us on Facebook!
Join our mailing list!
We send emails when we post new escape room themes.
Reviews
This was fabulous. I downloaded it the day of my son's 10th birthday party and was easy to throw together between the instruction and pictures. The clue sheet was useful to keep it flowing and offer hints to the kids. Great puzzles and they enjoyed entering QR codes online. So worth the cost. My husband had a bomb sound effect going to make the pressure of stopping the bomb more real. It took about 40 minutes. The boys loved it and their parents said they raved about the party all night long. Best party ever.
IT WAS SO AWESOME!!! Says the 10 year-old-birthday-kid! We did the escape room as part of a birthday celebration for our 10 year old and two 9 year old helpers. It was challenging and they needed a few hints but safely returned to earth at the end of their adventure! Well worth the money and we will try other escape rooms soon!
Great team building activity. Well worth the thought process that was put into this and nice graphics used. The puzzles were age appropriate for my gs troop of 14-15 year olds. I bought little valentines mailboxes and trinket boxes from the dollar store to add to the theme.
Such a well thought out game! It took my kids 45 minutes to finish and was perfectly challenging and fun! Well worth the $$$
Used this instead of the usual trick-or-treating due to Covid......it was slightly challenging for my twin 10 yr olds (which was a good thing...kept them busy!) and they found their Halloween candy along the way. Will purchase more of these in the future!
This was so much fun! My kids 5 and 9 loved it. They did have to work together to solve. Teamwork was dream work! The puzzles are very creative. It took about 30 minutes for me to put together. My kiddos solved it in 60 minutes with some hints along the way! Thanks so much!
This was amazing! The instructions were perfect! My kids worked together and loved the qr locks! My kids are aged 8-15. Best hunt yet!
My 8 and 9 year olds had a blast going through this. It took a little over an hour to complete with minimal adult help. It was challenging enough to keep them engaged and eager to get to the end. And it's fun for the adults to set it all up too. Highly recommend!
CONTACT
Have some questions? Can't find your email with the download links? Getting error messages? Need help with set up? Please contact us: Carolyn & Keri