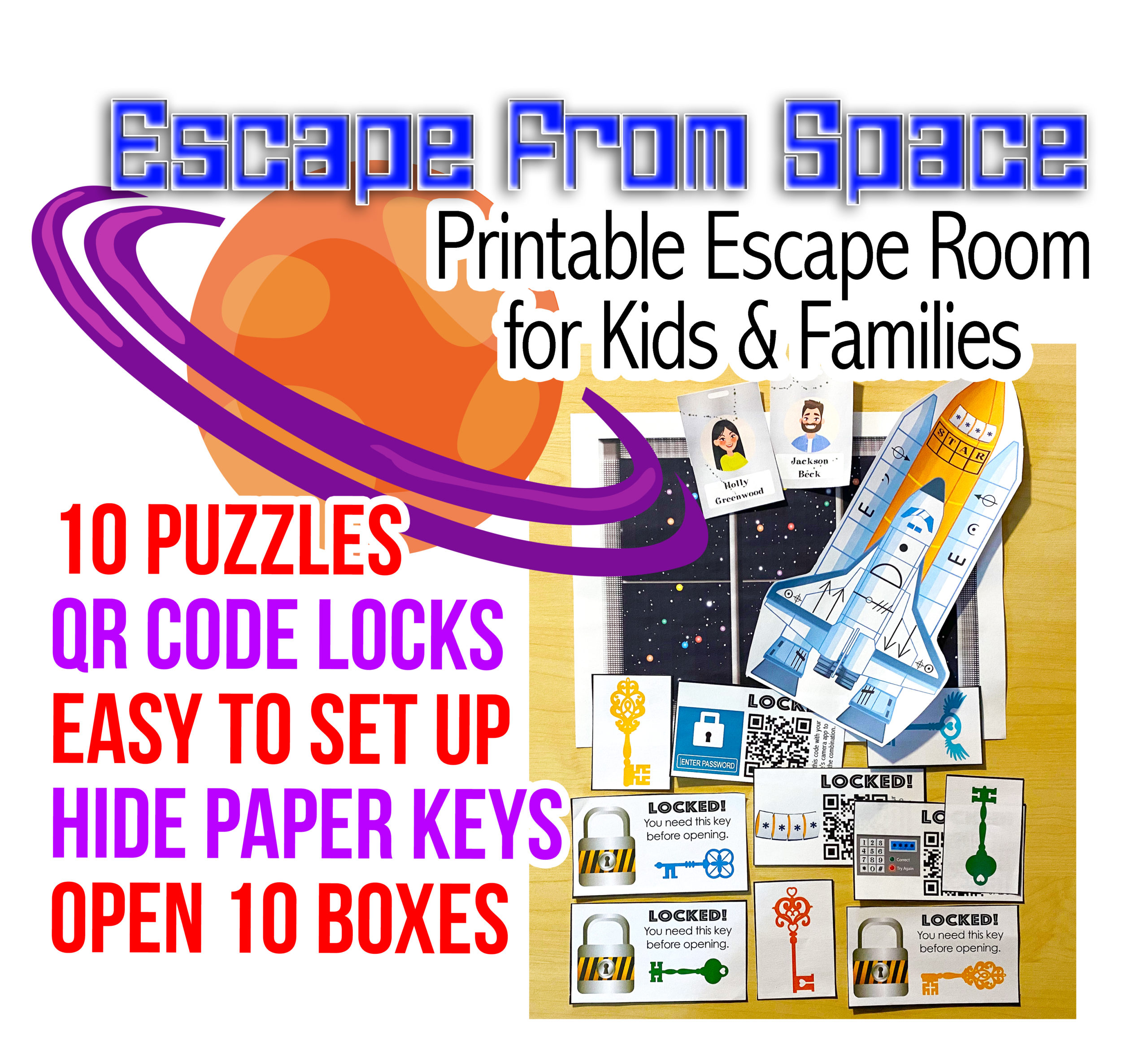 **PRINT AT HOME ESCAPE ROOM** NESA (National Escape Space Association) has been hearing some strange signals from a nearby galaxy. You and your fellow astronauts have been assigned to a space mission to find out if these signals are from aliens and to find out if they are friendly or not. Along the way you need to watch out for meteors, black holes and alien invasions. Hopefully you will be able to handle any problems along the way and return to Earth. Good Luck!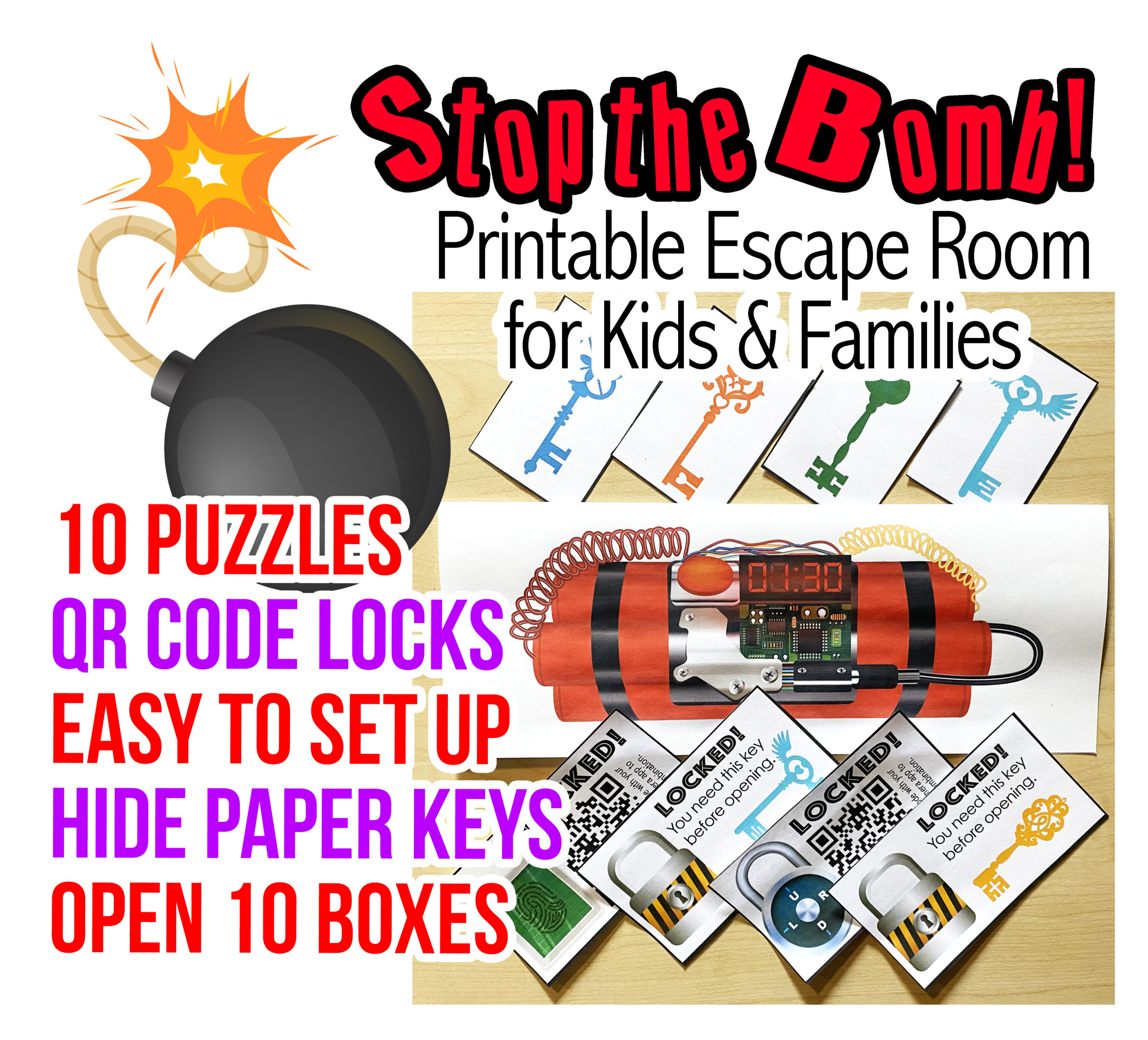 **PRINT AT HOME ESCAPE ROOM** The President just called. There is a bomb about to detonate in 60 min. He needs you & your team of specialists to deactivate the bomb. Not only is the bomb armed, it's also locked behind a bunch of traps. You will need to get past the traps & figure out how to deactivate the bomb before the whole city explodes! We are counting on you. Can you do it?
**PRINT AT HOME ESCAPE ROOM** I'm super excited for this weekend! My favourite dance competition, You Can Dance, is happening and I know my dance team is going to do well. It's going to be busy so I have to keep track of the time so I don't miss any of events. To make it to finals I will need to complete a series of challenges. Will I make it through the challenges so I can dance in the finals and get my 1st place trophy? (Because I know we are going to win!) Wish me luck!
**This theme will be available when we reopen** Professor H. Lock has been making inventions for years. He was invited to the biggest museum in Europe to exhibit one of his projects. As he was setting up, he realized that he was missing one key piece of the invention. He called you and asked if you could go pick it up and mail it to him asap! The only problem is that it's hidden away in a locked briefcase. He can't tell you the code over the phone incase someone overhears but he is hoping you can crack the code using hidden clues in his workshop. Will you get the missing piece into the mailbox in time?
About Kids Escape Room


In their spare time, Carolyn & Keri LOVE to go to escape rooms! They have been to over 50 escape rooms! One day they thought "wouldn't it be awesome to create escape rooms especially designed for kids?!?". So they did.

Each theme has multiple rooms to move through & include lots combination locks, key locks, door locks, combination safes & semi automated puzzles so there are lots of opportunities for kids to "get a turn" to do something.

All the puzzles are related to the theme. Kids can ask for as many hints as they like. We do not just give the answer to the puzzle but we will give guidance to help them figure it out.
LOCATION: ST. ALBERT, ALBERTA
We make use of multiple rooms for a jam packed 50 min adventure.
$40 per session/group
(you have up to 50 min to escape)
Capacity: 2-6 kids aged 6-16
(all kids included in the $40 fee)
Find us on Facebook!
Join our mailing list!
We send emails when we post new escape room dates.
Find out More
Christine from Just Another Edmonton Mommy tried out "Welcome to the Jungle" with her kids. Copy & paste the link to read the full review: http://justanotheredmontonmommy.com/2017/07/kids-escape-room-edmonton/
Visit our FaceBook page to see photos & comments from previous teams who have participated.
Join our mailing list to be the first ones to know when a new theme has dates for booking.
CONTACT
Have some questions? Find answers in the FAQ section below or feel free to contact us: Carolyn & Keri
FAQ
What do I do if I forgot what time I booked or I didn't receive my confirmation email?

Please feel free to use the contact us form to ask for your booking details. You can also send an email directly to: fun@kidsescaperoom.ca After booking, you will receive a "pending" email. Once you make your payment, you will receive a "confirmation" email. The subject will be "Escape Room Booking" if you would like to search your email.

Is there a party room available for cake & presents?

No - unfortunately we do not have a party room for cake & presents. If you are visiting our escape room for a birthday party you will have to plan a 2nd location for cake & presents.

Do I have to have a group of 6 kids to participate?

No! We recommend you have at least 2 kids working together to make your experience more fun but any number from 1-6 kids at a time is allowed.

Do all the kids need to be the same or similar age?

No! Mixed age levels are allowed. Just keep in mind that older kids will generally be able to solve the puzzles faster than younger kids. If you plan to send multi-aged siblings/friends you might want to have a conversation about trying to let each other have a turn to open locks or help out in the puzzles. The escape room has over 10 puzzles & locks so there is lots of opportunity to have a turn to "do" something.

Do you make the puzzles harder for older kids?

Yes! We adjust the way we give hints & guidance depending on the age of the kids. We want the kids to be able to do the puzzles with as little adult assistance as possible. We will not just tell you where the key is, or what the combination is but we will help you figure it out. We ask participant's ages when you register so we can plan ahead. If there is a group that is really young, or much older, we may also adjust the puzzles in the room.

Can I sign up now & tell you my friends' names later?

Yes! You can add, change or remove names of the kids in your group anytime. Just send us an email about it: fun@kidsescaperoom.ca

How much does it cost?

You book a 50 min session for $40 for your group. You can have up to 6 kids in the group for that price. Feel free to divide up the cost between  members of your group. If you have only 2 kids, its still $40. You can decide if you want less people so you can do more of the work yourself OR more people so you have more brains in the room to help solve the puzzles.

Have Carolyn & Keri made escape rooms before?

Yes! We have been creating escape rooms for kids since 2016. We stared out during our 2016 Spring break & Summer camps for kids. We incorporated a live escape room theme in all of our camps. We set up many different music c themed escape rooms for the kids during the camp weeks. During Spring Break of 2017 we set up "Mystery at Magic School" which did not have music related clues & was a huge success! In summer of 2017 we hosted 4 themes: "Welcome to the Jungle", "X marks the spot", "The Science Lab", & "Ready, Set, Glow". They were so popular we have decided to continue on with a new theme every 4-6 weeks. Scroll to the bottom to see previous themes. Scroll up to see current themes.

What do the parents do while the kids are in the escape room?

You have 3 options! You can just drop them off & then come back to pick them up when their time is done OR you can sit in our waiting & video monitoring area that is next to the escape room (& watch on screen) OR if you really just want to do the room too you can join in with them - but please try to let the kids do most of the work :)

Where are Carolyn & Keri (the supervisors) while the kids are in the escape room?

We will be in the next room watching & listening to everything through a video monitoring system. We can give hints through a walkie talkie & if necessary, can pop into the room at anytime.

How many hints do we get?

You can ask for as many hints as you like. We won't just give you the answer right away but we lead you in the right direction so you can easily get on to the next puzzle.

Is the escape room scary?

No! Not at all - this escape room is for kids! Some area's may be a little darker so the kids can use flashlights but nothing will pop out at you or be scary to look at.

Do I have to be a piano student of Carolyn or Keri to participate?

No! All kids from anywhere are welcome to sign up for our escape room. There is nothing music related about this room except for the fact that it's in Carolyn's piano studio. But we promise we won't make you practice the piano!

What are my payment options?

Payment by credit card, pay pal, e-transfer, cash or cheque is required within 48 hours of booking to confirm your escape room adventure.

What time should my group arrive?

Plan for your group to arrive approximately 5 min before your start time so we have time to run the rules of our escape room & give you your mission.

Who are the supervisors?
Carolyn & Keri from Piano Stars. Here's what they look like:

Previous Themes:
                    
Photos
Photos from our video monitoring system: