Printable Escape Rooms for Kids & Families
Halloween Escape Room Games
Print & play! No set up required. You only need a pencil & the 7 printed pages. Solve puzzles using the printed pages to give you the letters you need to solve a mystery message.
Castle Locke Escape
Play this escape room online using a computer & your smart phone. Play with multiple people in the same location OR play with multiple people over a video conference call.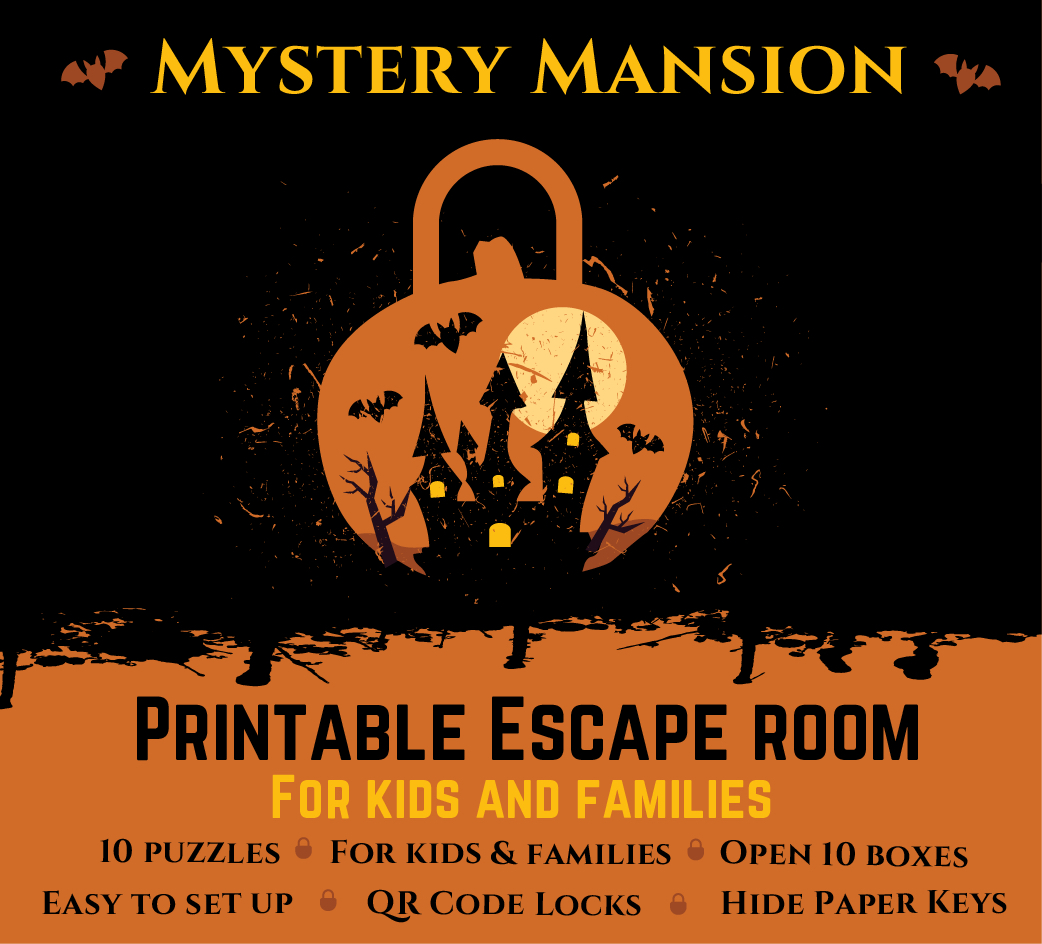 It's Halloween and you're about to go trick or treating at one last house for the night. You climb the steps at the front of the house when all of a sudden the door swings open. A huge gust of wind pushes you inside and the door slams behind you. You turn to leave, but there's one problem… It's locked! You notice there are many doors in this mansion but only one is open… You go in… You see a note… It says: OPEN THE ENVELOPE ON THE TABLE
Mel Skellington holds an amazing contest every October. She hides a pumpkin somewhere on her property filled with cash. Teams are invited to try to find this pumpkin. If you think this sounds easy don't be fooled! There are tricks and traps along the way. Some teams go in, but never make it out… If you are successful, you get to keep the cash. If you take too long, watch out for Halloween ghouls and ghosts! Are you up for the challenge?
You and your friends are out trick-or-treating when you come across an extra spooky house. You are brave enough to go to the door but didn't know it is Witch Willa's house. She opens the door and grabs your candy bags and hides them in her safe. She tells you the only way to get your candy back is to fill up HER bag with eight mystery treats from the houses on this street. It's not as easy as it sounds because each treat is locked up and you need to figure out how to get to them. Can you fill Witch Willa's bag with the eight mystery treats and deliver them to her so you can get your candy out of her safe?
Christmas Escape Room Games
Santa & the elves are busy in the workshop getting ready to deliver presents for Christmas but the reindeer have run off to play hide & seek! Santa needs your help to find them before time runs out so they can pull Santa's sleigh on Christmas Eve. The reindeer are sneaky & have locked themselves up in their hiding places! Luckily, they have left you some puzzles to solve that will help you open the locks. Can you find all 8 reindeer & line them up before it's too late?
Santa has planned some great Christmas activities for you today but one of his sneaky Elves has locked them all up! The only way you will be able to play is to solve the puzzles for each lock along the way. Can you win the game?
Puzzle a day, printable advent calendar for kids. A printable Christmas Countdown with 24 mini escape room puzzles for kids and families you can easily set up at home.
New Year's Escape Room Games
It's New Year's Eve and you are with all your friends and family at the annual Goodyear Manor New Year's Eve party. While exploring the mansion, some of you go into the library. A special book catches your eye, "The Countdown." You go to pull it off the shelf but as soon as you move it a secret door pops open! Your group goes in to check out this hidden space and before you know it, the door closes behind you. It's dark, but a sign lights up with the words "Solve these puzzles before midnight, or stay forever". Will you be able to escape?
Valentine's Escape Room Games
St. Patrick's Escape Room Games
General Escape Room Games